Whether you are going for sophisticated and serene, or rustic and chic, or classic and coastal, the goal should be to make your new home by the lake the perfect place to relax. Soft linens, gently worn furnishings, natural accessories, and colors should blend into nature or at minimum highlight the natural beauty around the area.

Here are a few tips to help you furnish your new home in Branson courtesy of Southern Living Magazine.

Infuse the cottage style with white. White paint on the walls and white slipcovers over the furniture not only make cleaning spills easier but they give the room an airy, open, serene feeling. Give everything a coat of white, even the fireplace. Small spaces look larger and it provides a great backdrop for vintage signs, artwork, and furniture. Everything looks good with white. You can even pair all of your favorite things for a look that's uniquely yours.

Go for natural, no worry decorating. Use rustic décor and furniture that blurs the distinction between indoors and out, reflecting the nature around your new home. Dark, woodsy paint colors like grays, browns, and greens set the mood with family-friendly furniture. Sisal rugs and cotton, washable fabrics mean minimal upkeep. Keep beautiful views the primary focus and let the light stream into windows. You can also bring the outside in by filling vases with flowers you've cut from the yard.
Create a casual chic look throughout. Keep your new home comfortable and welcoming by incorporating a bright, carefree color palate. A fun patterned fabric in your signature colors always makes great pillows, chairs, and cushions. Add simple extra seating like portable woven cubes that you can move around for larger family get-togethers. Try layering your rugs and using open shelving for a less formal look. The key is to keep the paint on the walls, trim and paneling the same color so it's calm and not distracting.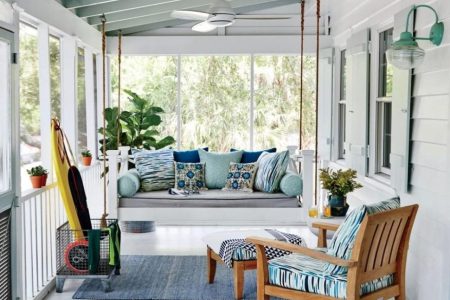 For more Lake House Decorating ideas visit Southern Living.